To follow along with these instructions, please create an account. Already have an account? Log in.
1. Create a new course
Click here to create your first course. From this page you can choose to either:
Import a set of Artusi assignments from our Artusi curriculum. You can later add, edit, delete, and rearrange these as you prefer.

Start from scratch—once the course is created, you can use the Assignment Editor to build worksheets, quizzes, and in-class activities from our extensive menu of exercises. You can still import assignments from our curriculum individually, or copy wholesale.
Don't forget to check out the how-to videos in our Getting Started Guide!
If your institution is planning to purchase a site license, but you don't have the code yet, don't worry—go ahead and create your course and the Artusi support team will go in later to apply your site license.
---
2. Enroll students
From the "Manage Enrollments" page, there are two ways to invite your students to enroll:
Send students an enrollment code: Once you create a course, the system will generate an enrollment code for that course. Visit the Manage Enrollments page to find the code. Give your students this code so they can enroll in your course.
Send an invite through Artusi: From the Manage Enrollments page, enter students' email addresses and send them an invite. They'll get an email from Artusi inviting them to join.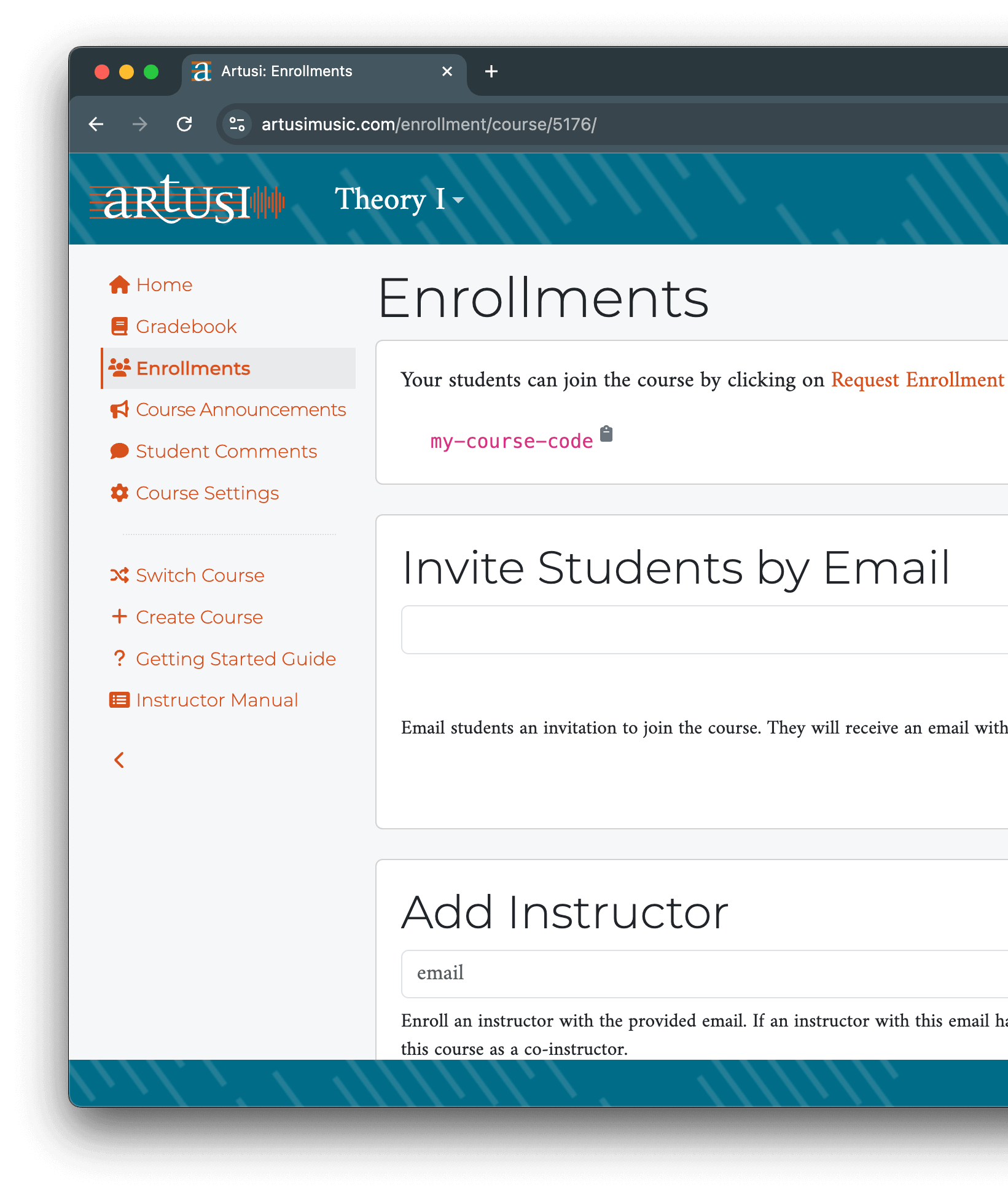 Pro tip: First, be sure to auto-approve certain email addresses—it makes everything easier! From the "Course Settings" page listed in your left-hand navigation, enter the domain name of your school so that students with email addresses from that domain will automatically see and enroll in your course.
---
3. View student grades
Click "Gradebook" in the left-hand navigation to view grades by student or assignment.
You'll see at a glance a student's percentage grade and questions they got right, wrong, partial credit, and unanswered. You can look directly at their submissions, see how long they took on each assignment, and track how many times they attempt an assignment—their specific submission is always saved in the system. You can also schedule makeup exams for individual students.

Artusi does not directly interface with an LMS (e.g., Canvas, Moodle, or Blackboard). To transfer grades from Artusi into your LMS, you can download your Gradebook as a CSV file and then upload that file into your LMS. It takes about 8 seconds.
Students have a three week or three assignment grace period before they need to purchase Artusi. This way students have time if they decide to drop the class, or if they are waiting for financial aid or other disbursements to come through.
After the three week/three assignment grace period, students must purchase access. Students will be able to do their work and their work will be saved in the system even if they haven't purchased access, but their grades and progress will not be displayed to either the student or the instructor.
---
4. What if my school buys it instead of students?
No problem—we can invoice you! Let us know if there is a specific type of invoice you need.
Most schools also want a contract, largely to make sure they and we are complying with the appropriate privacy regulations. See our privacy policy here. Let us know if there is a specific or standard contract you like to use.